970-690-6856
Welcome to Fusion Fabrication, where
your future is our business!
You can be certain ...
if it's made of metal, we can fabricate it!
Have a job that needs to be done, but you aren't sure of specifics?
Just call and talk to us - we'll  help you figure out what you need and get it done!
We do anything from small repairs to full blown new construction. We build anything from custom hand railings and gates to industrial vacuum chambers, from aerospace TIG parts to custom roll cages, from household welding repair to structural steel building.
We can build and install on-site or in our shop. 
We make 20+ years of varied welding fabrication and experience available to you. Our commitment is to quality and customer satisfaction. 
We strive to deliver on time, on spec and on budget.
Call 970-690-6856 and we'll started on your project.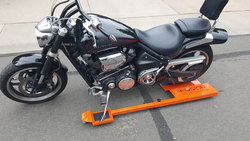 We are pleased to manufacture and market the Holy Roller, an adjustable low-profile motorcycle dolly!
Our dolly is adjustable, has locking casters, and is rated for 2,000 lbs. Made in the USA.
We were happy to have a booth at 2015 Thunder in the Rockies. We met lots of riders who stopped by and to watch our  demonstration and see the quality of this motorcycle dolly in person.